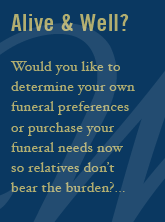 Personalization
Wilbert offers multiple ways to personalize a burial vault or urn vault with words, symbols, and images that speak of a singular spirit. Your loved one had a unique personality. The selections you make for the visitation and service should communicate that singular spirit. These choices ensure your loved one's memory is remembered for generations to come.
History of Calumet Wilbert
The Ellinghausen's family started Calumet Wilbert in1946 providing both burial vaults and caskets to the funeral industry in the Northwest, Indiana area. Ed Carroll joined Calumet Wilbert in 1971 managing both the casket and burial vault businesses. Ed purchased the burial vault side of the business in 1976 taking on all aspects of the business. Prior to joining Calumet Wilbert, Ed was a funeral director in Chicago for 20 years and had owned several funeral homes. He continued to play an active role in the business until his death in 2001.

Ed's son, Ted Carroll, joined the company full time in 1978 after graduating college from Western Michigan University. Ted learned the business from ground up working in all areas of the business. Witht the direction of his father, Ted worked his way up in the company, and eventually took on the roll as president in 1997.

Nancy Eghbali, Ed's daughter, joined the company in 1985. Prior to joining her brother with the family business, Nancy's family had spent time living in Missouri. Today, Nancy is the full time office manager for Calumet Wilbert.

Calumet Wilbert is a small, family-friendly burial vault business with 8 employees that offers burial vaults, cremation urns, cremation urn vaults, cremation jewelry, burial vault personalization, and more to the funeral industry.

Kelly-Carroll Cremation Services
Ted Carroll started
Kelly-Carroll Cremation Services
, a full-service crematory, in 2005. Kelly-Carroll Cremation Services works with funeral homes in the Northwest Indiana area with all aspects of cremation.
Calumet Wilbert
1920 West 41st Ave. • Gary, IN 46408 • Phone: (219) 980-1173 •
Email Us